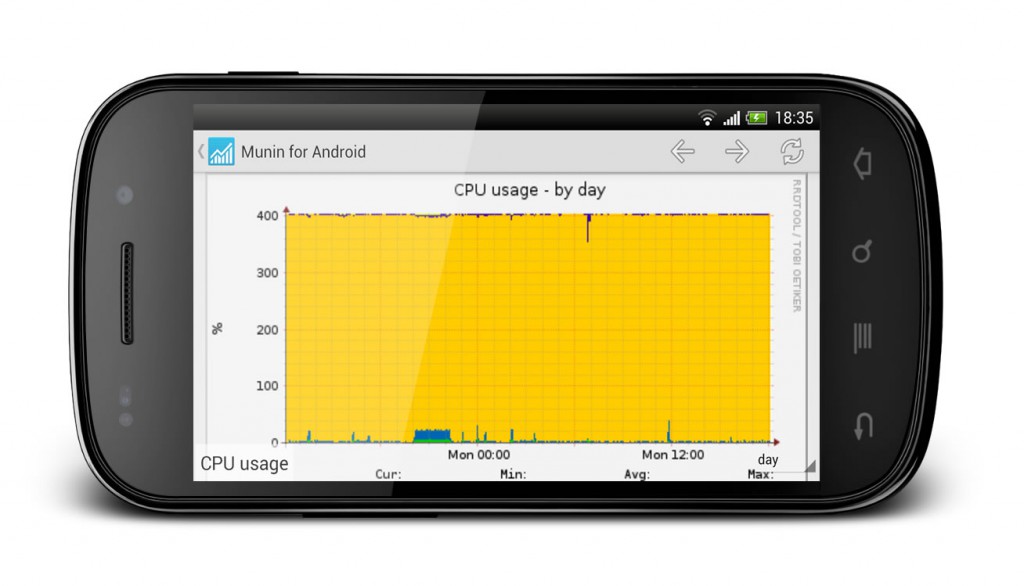 Munin for Android
What is Munin for Android?
Munin for Android is an Android app which allows you to display Munin output graphs of your server onto your Android-based smartphone. It is very simple:
Configure your server(s) in the Settings screen. Enter Apache Basic Auth ids if necessary. Munin for Android will analyze your Munin installation and find activated plugins.
Go back to the main screen, and selected a plugin. The corresponding graph will show up, feel free to edit the scale (view data per day / per week / per month / per year) and to switch to other plugins with the action buttons.
Where can I get Munin for Android?
Munin for Android is available for free on Google Play !
Is Munin for Android secure?
Munin for Android just needs an internet connection to work and cannot access your personal data. The app will absolutely never collect any personal data about your server.
Is my Android installation compatible?
Munin for Android works with Android 2.X, 3.X and 4.X.
Upcoming features
1.5

Favs come back

1.5

 Https support
And more ! Stay in touch !
Known bugs
If you find a bug in Munin for Android, please use the contact form (Contact)
Changelog
Munin for Android 1.1
Munin for Android 1.2
Munin for Android 1.3
Munin for Android 1.4
Munin for Android 1.4.1
Munin for Android 1.4.2
Munin for Android 1.4.5
First stable release
Munin 2.0 support
Graph favs
Splash screen
Tutorial on first launch
Design enhancements
Apache Basic Auth support
2 settings pages: Server + Settings
Choose default scale: day / week / month / year
Android 2.X: design enhancement
'Rate the app on Google Play' link
Multi-server support !
Multitouch on-graph zoom
Plugins real name now displayed
Critical issues correction
Graph double-load fixed
Design changes
Package size reduction (~80% of the previous version size)
Critical issues fixed
Package size reduction
Design enhancements
Critical issues fixed
Server deleting fixed
Local database optimisations
Fixed app crash with plugins whose name contaied special chars
Added loading screens in the app
Enhanced app speed

Screenshots: